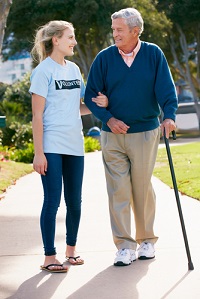 The phrase "pay it forward" is one that is used when a person does something nice for another person after they themselves have received a random act of kindness. When you are the recipient of a random act of kindness and want to pay it forward you don't repay the person who did something nice for you, but instead do something nice for someone else. As more parents become concerned over a growing sense of entitlement in children, the desire to teach children to pay it forward becomes greater. With the help of these 21 blog entries, you can find several ways to encourage your kids to pay it forward to others.
Everyday Kindness
Paying it forward doesn't have to be a grand gesture. Small everyday acts of kindness teach kids to open their eyes to the needs of the world and lend a helping hand if they can.  Simply carrying groceries for someone who has too many bags or holding the door for someone can go a long ways in brightening someone's day.  For more examples showing acts of everyday kindness, take a look at these seven blog posts.
Local Needs
Teaching kids to look around their community for ways that they can help out will teach them the delight that comes from helping others. Volunteering can help open a child's eyes to those in need and experience the joy that comes from helping them. Check out these seven blog entries to learn where your kids can go to pay forward all of the many blessings that they have been given.
Ways Kids are Paying It Forward
To get you and your kids inspired to pay it forward, take a look at the stories in these seven blog articles that feature kids who have done acts of kindness of all kinds all over the country.