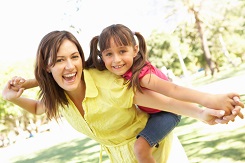 As summer rolls around once again, everyone is getting set to look their best. For busy moms, however, rocking the perfect summer look is not such an easy feat. With little spare time available for luxury tasks like applying makeup, clothes shopping and accessorizing, busy moms need to take advantage of any shortcuts they can find. It's good to know then, that when time is against you, there are experts out there with the advice that you need to keep up with current fashions and trends.
Summer Makeup Tips for Busy Moms
Applying makeup is usually a time consuming task, and for busy moms, that's just not always an option. A more fine-tuned regimen is needed so Mom can concentrate on looking after the kids while still looking great. Remember, too, that on those hazy summer days, the kids will be itching to get out to the beach, which means the clock is really ticking. For the quickest, most professional makeup tips, follow the advice of these five bloggers.
Hair and Skincare for Busy Moms
Hair and skincare is important, especially during the summer months when you are at the mercy of an unforgiving sun. Certain precautions are an absolute necessity, as you can't take any chances with your health. That aside, you want to look your most fabulous while you stroll along the seafront. These five bloggers reveal the hair and skincare secrets you will need to get your summer underway, no matter how busy you are.
Summer Clothes for the Busy Mom
Mixing and matching your wardrobe may have once been a favorite pastime, but with kids biting at your heels, you'd better learn to change in 30 seconds flat. Organizing your wardrobe will afford you a little more time, but it won't give you much in the way of variety. There are better ways to jazz-up your summer look, though. Take a look at these five blogs for some ideas on how you can quickly rotate your summer style without missing a step.
Busy Mom Workouts
While being a busy mom is a workout in itself, it's just not the same as getting a structured workout in a gym. The problem, though, is finding the time to do so. Most parents would not happily leave their kids unattended at a gym, and rightfully so. The only alternative, then, is to fit your workout in wherever you can. It can be done, and these five bloggers can give you the motivation and techniques that you need to get summer fit.
General Styling Tips
For busy moms on the run, there are a number of general styling tips that will keep you looking good, even when you're pressed for time. No matter how busy your day is, these tips will help you make the most of the summer months. The five blogs in this list are specifically aimed at busy moms, which will allow you to stay in style regardless of the challenges you face.
The Summer Baby Look
Let's not forget your babies this summer; they deserve to look their best, too! Baby fashion is a big industry, but you won't always have the time to make a truly informed purchase. If you're struggling for ideas for your kids this summer, take your lead from the ideas in these five blogs.