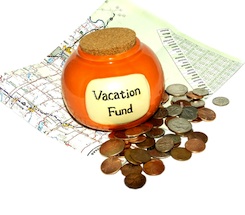 Family vacations are a great way to make lasting memories that you all cherish for the rest of your lives, but they can also be quite pricey. That doesn't mean that the trip of your dreams is out of reach, however, even if you're faced with a relatively tight budget. These 20 savings tips can add up big time, helping you to reach your travel goals before you know it.
Start a Family Travel Fund – Pitch in as a family. Contributing allowances, gift money and spare change as a group helps everyone take responsibility for the expenses of an exciting travel adventure.
Hold a Garage Sale – The garage sale is a time-honored tradition that can help you create more space in your home as well as collect a bit of pocket money. Holding a garage sale with the intention of putting 100% of the proceeds towards your vacation is a great way to jump-start your vacation savings account.
Break Out the Change Jar – Making a habit of dumping your pocket change into a large jar adds up surprisingly fast, even more so when every member of the family is chipping in.
Liquidate Your Assets – Selling a bunch of old collectibles that are taking up space online helps you corner a niche market that may not be available through a traditional, on-site garage sale. In some cases specialty items can fetch much higher prices online.
Establish a Family Dinner Routine – If your family eats out more than once a week, start researching money-saving meals you can prepare at home and deposit the average check price of those meals into a dedicated savings account.
Make Cutting Energy Costs Fun – Make a game of seeing who can use the least amount of energy in your home. Not only will you save big on your utility bills, you'll also be reducing your household footprint.
Sign Up for Flash Sale Groups – Online marketing groups that offer flash sales generally have big-ticket items available at bargain-basement prices for a very short time. Signing up for these groups can help you save big and you can put the money you would have spent away for your family trip.
Have Family Coupon Clipping Parties – Clipping coupons is tedious work, but it can be fun when the whole family sits down together to make an event of the chore.
Encourage Kids to Contribute – Whether they're mowing lawns, babysitting, setting up a lemonade stand or chipping in from a birthday fund, encouraging your kids to contribute allows them to make a difference in your vacation budget. This gives them a sense of pride and the savings account a boost.
Break Bad Habits Together – If one member of the family is a smoker, another has an expensive coffee habit and the kids are all addicted to sugar, making a family effort to break those bad habits while putting the money saved in a travel account can be a great motivator on all fronts.
Cut Down on Car Use – There are times in most families' lives when it would be just as easy to walk, use mass transit or bike to a location than to drive. When those opportunities arise, take advantage of them and save money on gasoline in the process.
Hold a Savings Competition – Competing with one another to see who can save the most is a great way to encourage savings, especially when you're all contributing to a common goal.
Make a Savings Thermometer – There's a reason why the savings thermometer is a fundraising standby: it works! Making your own vacation savings gauge provides an actual goal and shows how much further you have to go before you reach it.
Start a "No Waste" Challenge – The average family throws away a shocking amount of money through sheer product waste. Starting a "no waste" challenge encourages more responsible habits and saves money.
Take Advantage of Local "Free Days" – Museums, libraries and other institutions often run "free day" promotions. Taking advantage of them allows your family to enjoy no-cost entertainment, freeing up more funds for travel.
Host Potluck Get-Togethers – There's no need to stop entertaining when you're trying to save, but instead of footing the bill for the entire meal just hold an old-fashioned potluck! When everyone contributes to the party, you're able to save big and still enjoy the company of your nearest and dearest.
Hold Fashion Swaps – Kids outgrow clothing so quickly that it's not uncommon to send an item with tags still attached to the local thrift store. Hosting a fashion-swap at your house with other parents allows everyone to trade out gently-worn clothing, saving money and enjoying one another's company in the process.
Go Paperless – Stop spending money on stamps, envelopes and checks by going paperless with all of your bills.
Get DIY Savvy – There are so many things you can do at home for a fraction of the price of purchasing store-bought goods, all you need is a bit of know-how. Online tutorials for everything from making butter to building furniture are plentiful.
Visit Professionals in Training – Rather than spending a small fortune on haircuts, teeth cleanings and other basic services, consider visiting your local training center. There, professionals in training will perform these services with the supervision of a skilled instructor at a fraction of the cost!